CASE STUDY: The Church of Eleven22
One Product Really Can Do It All: PlexiGlaze #4
The Challenge:[dt_gap height="5″ /]
The Church of Eleven22 is located in an old department store building that church leaders, volunteers and local contractors worked to renovate to accommodate its growing number of worshippers.  Installing a high performance and aesthetically pleasing coating throughout the building was a part of the renovation plan. Church leaders wanted a coating that would fit within their budgetary constraints and would also create a consistent feel throughout the hallways, corridors, office space, child care center, play areas and worship sanctuary. Approximately 20,000-square-feet of floor area needed to be coated with a material versatile enough to not only make worshippers feel welcome, but that could also withstand a heavy amount of foot traffic.

The Solution:[dt_gap height="5″ /]
Plexi-Chemie's epoxy floor coatings have earned a stellar reputation over the years for their versatility and excellent durability.  The Church of Eleven22 was the perfect location for PlexiGlaze #4, Plexi-Chemie's all-purpose epoxy. This coating  is a 100% solids water-clear epoxy flooring resin that is self-leveling and can be used as a primer, body coat and sealer. It is free of volatile organic compounds (VOCs), meaning that it is odor-free and does not require the use of respirators during the application process.  PlexiGlaze #4 cures into a hard solid, but does not become brittle, allowing for abrasion and impact resistance.
Using one product to coat the floor allowed the Church of Eleven22 to save money on the application, without sacrificing performance or aesthetics. And speaking of aesthetics, the church leaders had a bit of an usual request: They wanted the floor to be functional and beautiful, with the imperfections in the concrete substrate left visible. According to church officials, the imperfections in the floor should serve as a reminder to the congregation that each individual is flawed, yet strong and beautiful.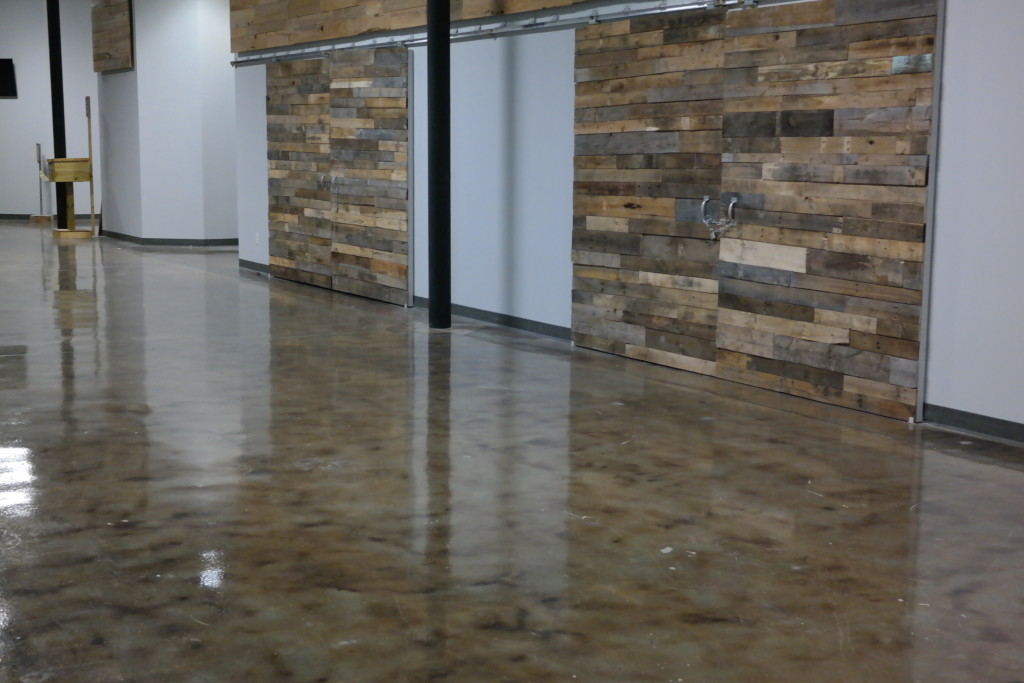 The Results:[dt_gap height="5″ /]
The end result was a floor that had a faux design look, with the imperfections in the substrate creating shading and depth throughout the Church of Eleven22's floor. The flooring solution will last for years to come with the durability of PlexiGlaze #4 standing up to the demands of a growing group of believers.