CASE STUDY: Coast Guard Hangar 13
Plexi-Chemie Has the Right Products for the Toughest of Jobs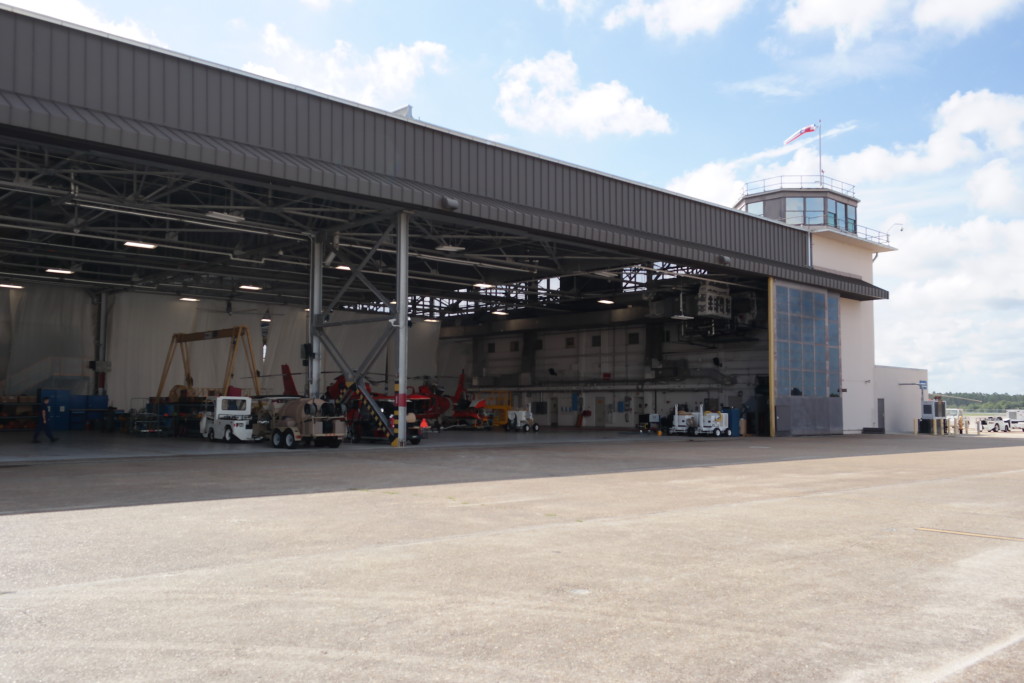 The Challenge:
Aircraft hangars, airports, manufacturing and industrial plants are facilities that often require sophisticated and multi-course coating systems. These jobs tend to be large not only in size, but also in the scope of work and coating system specifications.  In addition, the floors of these facilities take a lot of abuse, from heavy equipment and vehicles, tools, chemicals and contaminants such as oil and grease. Protecting these surfaces is a tall order and presents quite a challenge to coatings contractors.
Coast Guard Hangar 13 in Jacksonville, Florida is a prime example of such a job. This 45,000-square-foot facility is home to HITRON (Helicopter Interdiction Tactical Squadron), a Coast Guard squadron dedicated to stopping the transport of illegal drugs into the United States. The existing epoxy floors in Hangar 13 were in a state of disrepair, with chipping, flaking and cracking, as well as large expansion joints that were devoid of filler. A new coating system needed to be applied, one that would be strong enough for the 9,480-pound helicopters that are housed in the hangar, but also chemical and abrasion resistant enough for high tech maintenance work. In addition, because of Florida's high water table, there was worry of moisture issues within the existing concrete substrate. In other words, a high performance moisture mitigation system needed to be installed prior to the application of the coating system.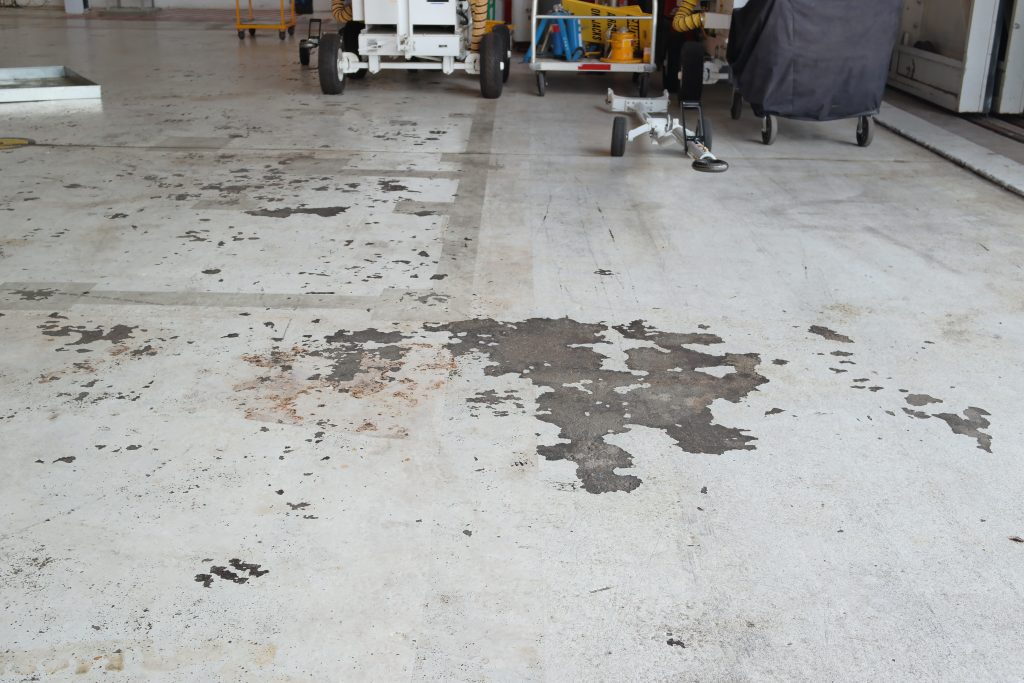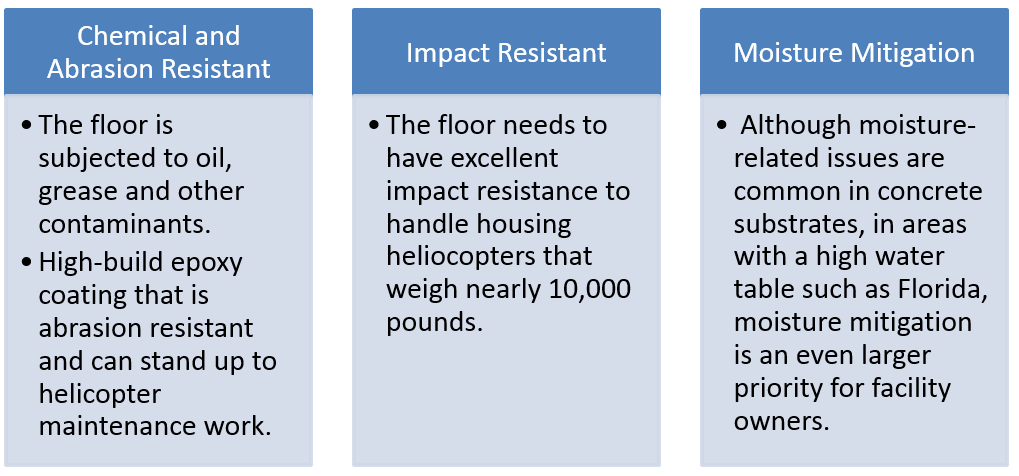 The Solution:
Although the Hangar 13 job was certainly a tough, large-scale job, Plexi-Chemie was up for the challenge.  Once the old coating system was removed and all expansion joints were filled with Plexi-Chemie's PlexiFlex Caulk, flooring technicians applied PlexiFloor Epocrete to the entire hangar floor. PlexiFloor EpoCrete is a three component, water-based, solvent-free, moisture tolerant epoxy high performance cementitious self-leveling slurry mortar. It is particularly formulated for leveling and for the necessary preparation of slabs with excessive water. Once the Epocrete was trowel-applied, vapor transmission was significantly reduced within the substrate.
With the moisture-related issues handled, the next order of business was to apply a high performance primer to the floor surface. PlexiGlaze #4 is one of Plexi-Chemie's most versatile coatings and can be used as a complete flooring system on its own. However, for the Hangar 13 project, PlexiGlaze #4 was used as a primer that was applied in between the moisture mitigation system and the main coating system.
Once entire floor surface had received the primer course, flooring technicians applied PlexiGlaze IFF as the main body coat. PlexiGlaze IFF is a 100% solids, low VOC, USDA accepted, pigmented, heavy-duty floor coating designed for industrial and commercial applications. Although it cures into a very hard solid, it does not become brittle, instead retaining a sufficient amount resilience to withstand impact and vibration, including that of extremely heavy helicopters. PlexiGlaze IFF is non-blushing and non-water spotting, bonds to cold, damp surfaces and supports heavy industrial traffic. PlexiGlaze IFF is the most advanced cyclo-aliphatic amine curing system of its kind. In addition, it is also resistant to fungus, mildew and is anti-microbial.
At Hangar 13, flooring technicians applied two coats of PlexiGlaze IFF, with an aluminum oxide or 2030 sand broadcast layer in between in certain areas for slip resistance. Over the top of the PlexiGlaze IFF, PlexiCrest P was applied for a glossy finish. PlexiCrest P is a polyester polyurethane coating that is moisture and abrasion resistant AND is easy to clean.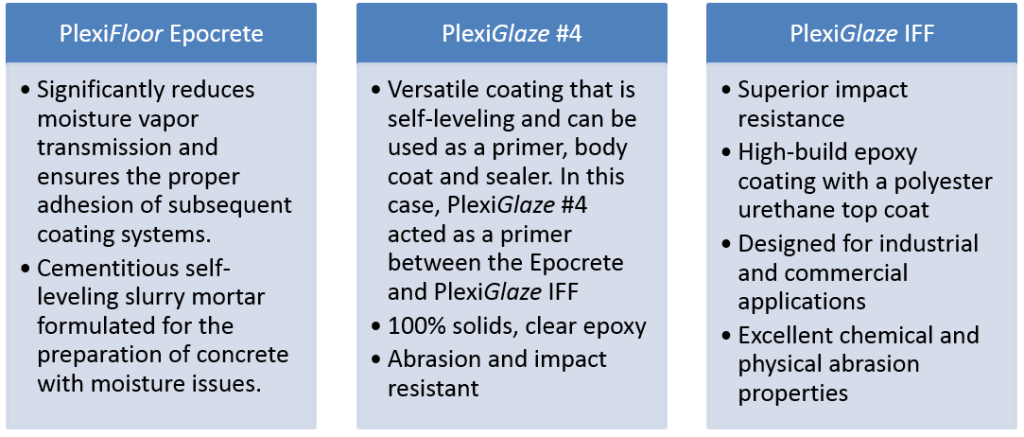 The Results:
Tough jobs like the one at Hangar 13 often require sophisticated coating systems to get the job done right. Plexi-Chemie has a full line of products that are especially designed for large industrial projects that require high tech solutions to challenging issues such as moisture mitigation, impact resistance and durability.