CASE STUDY: The Metro Diner
No Time to Redo Your Floors? Think Again with Plexi-Chemie's Quick Turnaround Products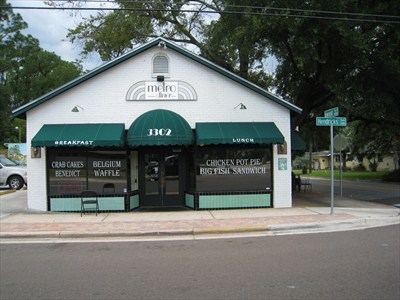 The Challenge:
Many small businesses, especially those in the food or retail industries, simply cannot afford to shut their doors to customers during minor renovations.  As a result, the floors of these businesses are often in desperate need of repair by the time the decision is made to install a new flooring system.
Case in point is the Metro Diner in Jacksonville, Florida. This famous diner has been featured on the hit Food Network television show Diners, Drive-in and Dives, and it is known for good food in short order. Although their floor was in disrepair, the Metro Diner did not want to lose any business while new coating systems were being installed in the kitchen and dining areas.  This meant that the installation could only take place from the hours of 3 p.m. and 4:30 a.m., and once the coating was applied, it had to cure extremely fast.
In the kitchen area, the Metro Diner needed epoxy floors that were functional and durable with chemical, abrasion and slip resistant properties.  In the dining room, the owners were looking for a decorative, slip resistant coating that was able to be color customized to fit with the overall motif of the diner.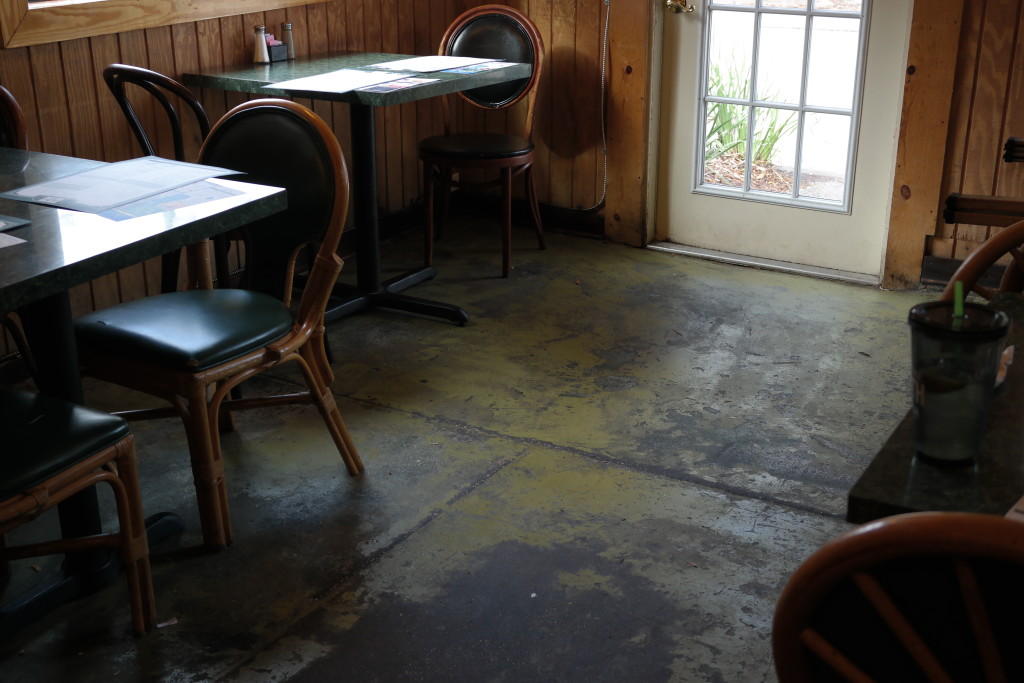 The Solution:
Fortunately for the Metro Diner, Plexi-Chemie manufactures epoxy flooring systems that are designed for speed when it comes to curing and offer excellent durability and performance.  
For the 500-square-foot kitchen area, a custom Plexi-Chemie resurfacer system called Granitech/PlexiBlend was applied.  This seamless flooring system offers an affordable alternative to terrazzo.  It is monolithic, flexible and sanitary, meeting all of the USDA guidelines for use in federally inspected facilities. It is functional, easy to clean, chemical resistant and slip resistant— a durable choice for an area that will see a lot of spills, water and otherwise. This unique Plexi-Chemie system was troweled on in ONE step—no top coat is needed. In a job where time was of the essence, this was a huge plus. 
For the 300-square-foot dining room, Plexi-Chemie's PlexiQuartz system was applied. This decorative quartz floor comes in many customized color options, including Southern Moss—a blend of green, buff and beige that works perfectly with the diner's down home motif.  The PlexiQuartz system is a non-slip, epoxy floor coating that offers excellent chemical and physical abrasion resistance. Over the top of the Plexi-Quartz, flooring technicians applied PlexiGlaze #4, a 100% solids water-clear epoxy floor resin that offers UV stability and is designed for decorative quartz systems.

The Results:
In an instance where timing was everything, Plexi-Chemie's fast-curing coating systems were the answer to Metro Diner's flooring needs. The "Before" and "After" pictures speak for themselves—old, damaged floors have been turned into functional and beautiful surfaces, all within three days time. Even more impressive is the fact that the flooring technicians came in at 3 p.m. once the diner was closed for the day, and by 4:30 a.m., the newly applied floors were cured!  How's that for speed?!