CASE STUDY: Osceola County Fire Station
Moisture Issues in Your Concrete Substrate? Plexi-Chemie Has the Moisture Mitigation Solution 
The Challenge:
One of the last things a building owner, or a coatings contractor for that matter, wants to hear is that there is a moisture issue in the concrete substrate that is to be coated. However, in areas such as Florida where the water table is high, more often than not moisture problems must be dealt with before the application of a coating system. If the concrete has too much moisture, the coating system will not properly adhere to the substrate and even more problems can ensue, including complete coatings failure.
A moisture issue was exactly what was encountered at a fire station in a major Florida city. The 6,000-square-foot concrete floor was in desperate need of a new coating system that could stand up to heavy vehicle traffic and major exposure to high volumes of water and abrasive chemicals. However, the first step was finding a moisture mitigation solution that would reduce water vapor and moisture levels and prepare the substrate for the application of a high performance and durable coating system.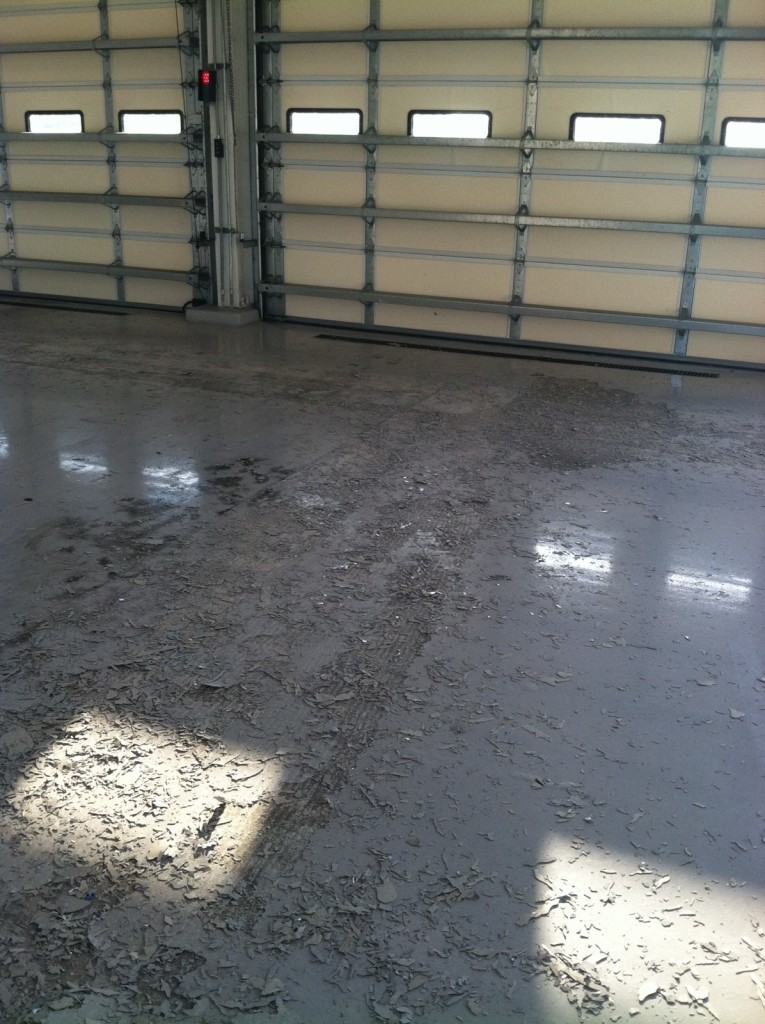 The Solution:
Luckily for the fire station, Plexi-Chemie manufactures several moisture mitigation solutions, and the PlexiGlaze MVB 2000 was the perfect choice for the job. PlexiGlaze MVB 2000 is a one-coat system which consists of a unique combination of epoxy resins and other chemical substances. It is specifically formulated to overcome the inferior adhesion properties of most resin based systems when curing in an environment of constant wetness, extreme alkalinity (pH 13-14) and water vapor drive. Because of its extreme density, it is capable of reducing water vapor and moisture to levels acceptable for most coatings, adhesives and floor covering systems. PlexiGlaze MVB 2000 is in full compliance with current VOC regulations. The PlexiGlaze MVB 2000 system has excellent chemical and abrasion resistance and is compatible with most 100% solid epoxy and/or polyurethane based materials.
With the moisture issue taken care of with the application of PlexiGlaze MVB 2000 on the fire station floor, it was time for the next step in the process: The application of a high performance, durable, abrasion resistant and slip resistant coating system.  Plexi-Chemie's PlexiGlaze Industrial Floor Finish (IFF) epoxy floor coating was just the right product for the needs of the fire station. PlexiGlaze IFF is a 100% solids, low VOC, USDA accepted, pigmented, heavy-duty floor coating designed for industrial and commercial applications. PlexiGlaze IFF is non-blushing and non-water spotting, bonds to cold, damp surfaces and supports heavy industrial traffic. Although it cures into a very hard solid, it does not become brittle, instead retaining a sufficient amount resilience to withstand impact and vibration. PlexiGlaze IFF is the most advanced cyclo-aliphatic amine curing system of its kind. In addition, it is also resistant to fungus, mildew and is anti-microbial.
At the fire station, flooring technicians applied two coats of PlexiGlaze IFF, with an aluminum oxide broadcast layer in between for slip resistance. Over the top of the PlexiGlaze IFF, PlexiCrest P was applied for a glossy finish. PlexiCrest P is a polyester polyurethane coating that is moisture and abrasion resistant AND is easy to clean.

The Results:
The "Before" and "After" photos tell the story – the fire station now has a floor that will stand the test of time. The PlexiGlaze MVB 2000 was the right product to mitigate the moisture in the concrete substrate, allowing for the application of a high performance coating system. Plexi-Chemie was able to solve all the issues for the fire station, from moisture problems to creating a floor that is durable and can withstand the abuse of heavy trucks and water and chemical exposure.