CASE STUDY: Pratt and Whitney
Plexi-Chemie Products Meet the Varied Needs of Heavy Industry
The Challenge:
In large industrial settings, not all floor surfaces have the same coating needs. Some areas may require a chemical and abrasion resistant high-build epoxy system, others may need to be brought up to the same elevation as the rest of the floor and still other areas may require a heavy-duty coating that offers excellent impact resistance.  This presents a challenge to facility owners and coatings contractors who are looking for a manufacturer that has a broad enough product line that can address these varied needs of a large industrial plant.
For example, a 20,000-square-foot machine shop in New England had floors that had taken a beating. This particular facility manufactures special jet engine parts and handles parts from all over the world. The concrete substrate was severely stained with grease, machine oils and other substances, so it was already a given that aggressive surface preparation was in order regardless of the coating system chosen.  While the majority of the floor could be coated with a chemical and abrasion resistant high-build epoxy, there was one area that required an even stronger, more impact resistant coating—the part of the shop that heavy duty tractor trailers traversed multiple times throughout the work day. In addition, there was another area that was deeply recessed and required a resurfacer to bring it up to elevation before the high-build epoxy coating could be applied.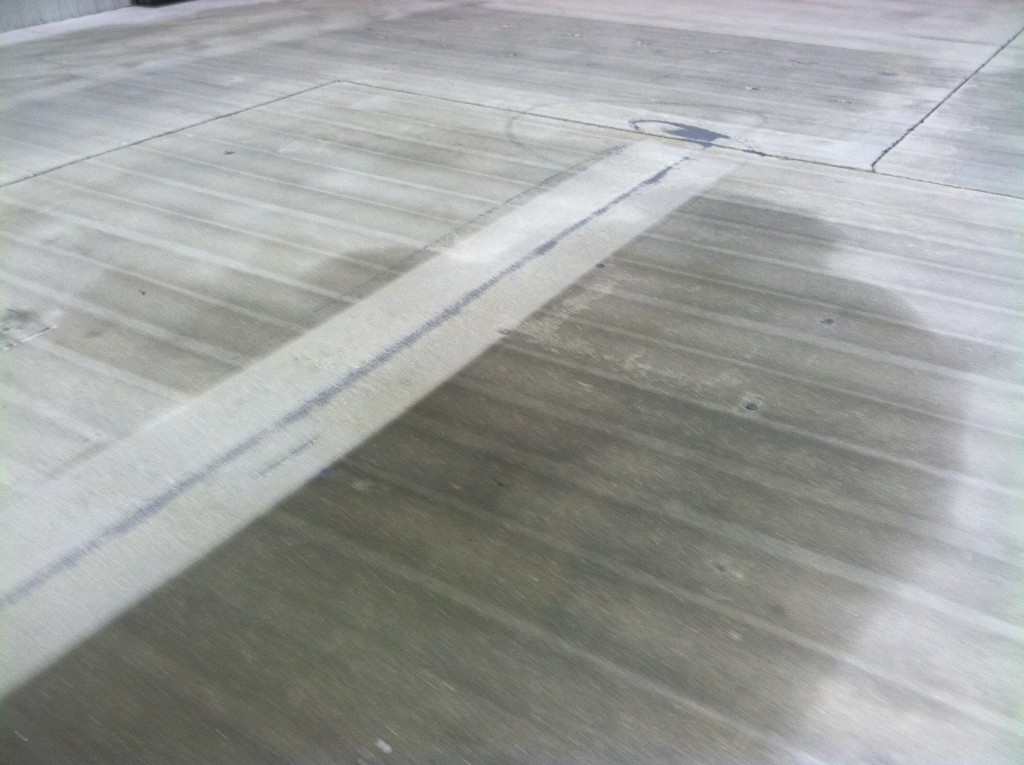 The Solution:
Fortunately for the jet engine machine shop, Plexi-Chemie manufactures a broad range of products for every possible industrial and commercial setting.  The entire floor of the facility was aggressively prepped and then Plexi-Chemie's versatile PlexiGlaze #4 was used to prime the concrete surface. PlexiGlaze #4 is a 100% solids, clear epoxy flooring resin that acts as a penetrating primer.
It was at this point that Plexi-Chemie's specially formulated flooring systems solved all flooring issues for the industrial machine shop. For the majority of the shop floor, Plexi-Chemie's PlexiGlaze IFF high-build, pigmented epoxy with a polyester urethane topcoat was applied. This heavy-duty floor coating is designed for industrial and commercial applications and has excellent chemical resistance properties. PlexiGlaze IFF is non-blushing and non-water spotting, and although it cures into a very hard solid, it does not become brittle, instead retaining a sufficient amount resilience to withstand physical abrasion. PlexiGlaze IFF is the most advanced cyclo-aliphatic amine curing system of its kind. In addition, it is also resistant to fungus, mildew and is anti-microbial.
For the 2,000-square-foot area of the shop that required an even more impact resistant coating system, flooring technicians applied PlexiQuartz CRI. This 3/16-inch quartz floor provides excellent impact resistance and was the perfect choice for path of the tractor trailers. PlexiQuartz CRI is a troweled and broadcast system that is 100% solids clear epoxy resin and aggregate flooring system.  For this particular project, there were two broadcast layers installed.
And finally, for the 300-square-foot area that was recessed, PlexiClad Deep Fill was applied prior to the installation of the PlexiGlaze IFF system. PlexiClad is a 100% solids, three-component, troweled, pigmented epoxy resin and natural aggregate mortar flooring system. It is designed to rehabilitate worn concrete and bring recessed areas of concrete up to the same elevation as the rest of the floor surface.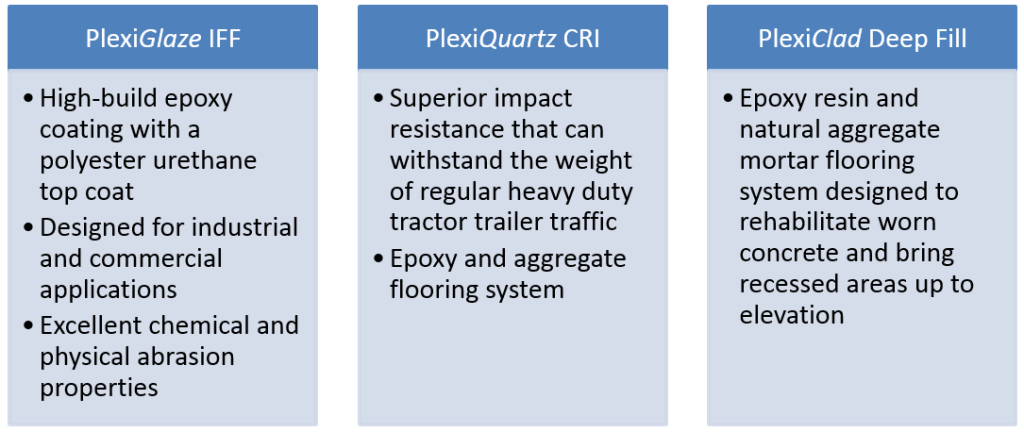 The Results:
In industrial environments, floors certainly take a beating.   Oftentimes floor surfaces within the same facility may require different coating systems to protect them from the specific activities that occur within the building. Plexi-Chemie has the right products for all areas and all needs of industrial, manufacturing plants and machine shops. For the jet engine machine shop, Plexi-Chemie's breadth of coating systems offerings ensured that the proper coating would be applied to each area of the facility.