[smart-skinable-tabs tabs_name ="tabs_header-1″ width="100%" skin="skin1″ position="left" effect="basic_display"]
[tab title="OUR Products"]
Flooring Systems
Plexi-Chemie's material provides a completely seamless and decorative floor covering that is not only safe but pleasing to the eye. Our flooring systems are found in wet areas such as laboratories or food processing plants, and also in high traffic areas, such as airports and prisons.  The versatility of our product helps meet your every flooring need. Browse ›
Primers & Sealers
Plexi-Chemie suggests that all flooring system projects begin with a low-viscosity epoxy or acrylic primer coat that penetrates, seals and reinforces concrete floors prior to resurfacing. Our epoxy primers and sealers ensure you durable yet finished looking floors.  With all the harsh elements surrounding laboratories, hospitals, prisons, airports and food plants, Plexi-Chemie's products are guaranteed to stand up against weather and human conditions. Browse ›
Membranes & Crack Sealers
Plexi-Chemie's epoxy and urethane membranes and crack sealers fill the gaps, cracks, holes or any irregular surface.  The resilient property provides excellent resistance against chipping, gouging, cracking and it can be applied to any new or restored concrete surface. They also work well in reducing the stress between the substrate and any subsequent coatings. Browse›
Resurfacers
Plexi-Chemie offers many resurfacers in dozens of color combinations in epoxy or urethane material and any surface texture can be modified to offer varying degrees of slip and chemical resistance, especially in wet environments. These systems are durable, easy-to-implement, and strong. Browse›
High Performance Top Coats
Plexi-Chemie's high performance topcoats lets you control it's appearance while giving you the same durability and floor longevity.   Made for commercial and industrial environments. Browse›
Waterproofing Systems
Plexi-Chemie's waterproofing systems are designed for the protection and waterproofing of new or existing concrete structures. These systems can be applied to any new or restored concrete surface and are excellent for expansion/contraction. Even when the environment is wet, Plexi-Chemie gives you something solid to stand on. Browse›
Floor Coatings
Plexi-Chemie's floor coatings offer an array of services for your deteriorated floor.  The products rehabilitate and enhance the aesthetics of a floor while adding many years if functionality to institutional and industrial surfaces.  Browse›
Cementitious Patch Material
This line of Plexi-Chemie's products allows the contractor to repair and patch mortars for any industrial or commercial floor. Browse›
Moisture Mitigation Systems
More information coming soon. Browse>
Wall Systems
More information coming soon. Browse>
Epoxy Quick Patch Materials
More information coming soon. Browse>
[/tab]
[tab title="Request A Sample"]
Request A Sample
[/tab]
[tab title="Color Charts"]
Color Charts
Below are Plexi-Chemie's color charts for chip flooring, decorative quartz flooring, and standard solid colors. If you have a specific question regarding colors, please email us.
---
Signature Blends
Download The Signature Blends Color Chart PDF

1/8″ Blends

1/4″ Blends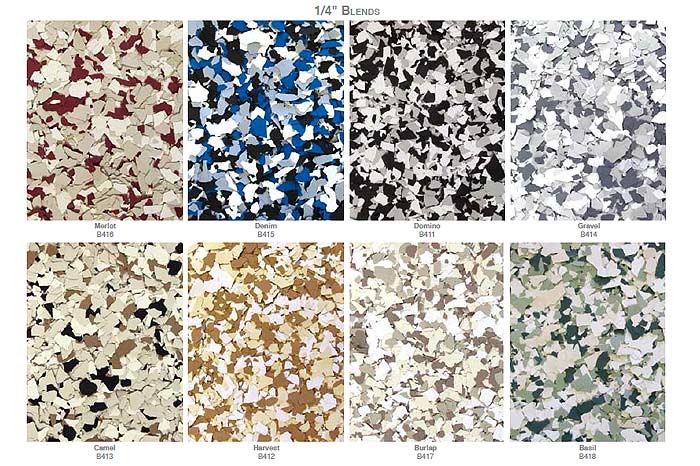 ---
Quartz Blends
Download The Quartz Blends Color Chart PDF

Quartz Granules for Architectural Color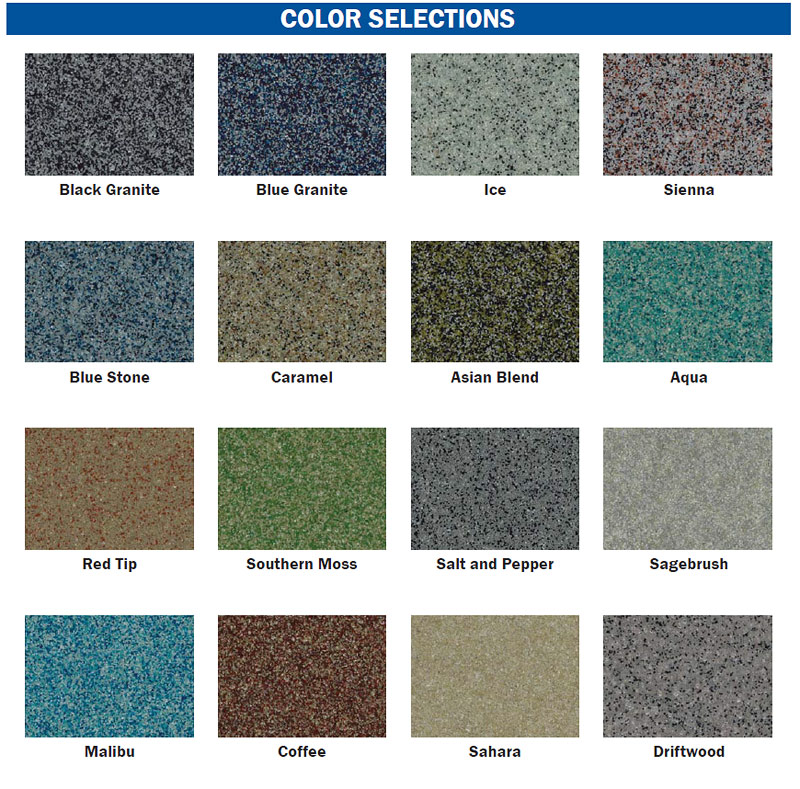 ---
Standard Colors
Download The Standard Colors Chart PDF

Standard Colors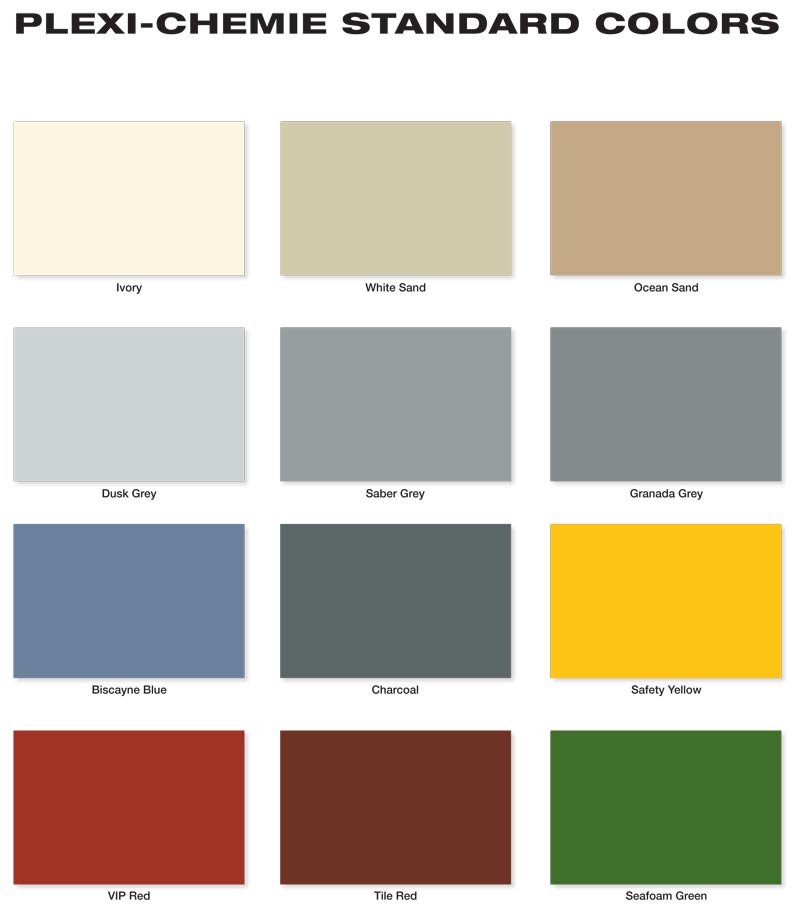 [/tab]
[tab title="LEED INFORMATION"]
LEED INFORMATION
The Plexi-Chemie team is committed to providing "green" flooring solutions. Plexi-Chemie's line of earth friendly and sustainable flooring products/systems can help you achieve LEED certification on your next project. Plexi-Chemie is a proud member of the United States Green Building Council.
Below you can find a breakdown of LEED credits that Plexi-Chemie's products can provide for your project.
Materials and Resources:
MR Credit 1: Building Reuse
Our flooring systems are used for repair and maintenance of existing buildings and minimize impact on new facilities and demolition of old buildings.
MR Credit 2: Construction Waste Management
We minimize impact on landfills because we produce very little waste and we use recycled packaging whenever possible.
MR Credit 4: Recycled Content
Our PlexiBlend system contains recycled glass and aggregate media.
MR Credit 6: Rapidly Renewable Materials
We offer rapidly renewable bio-based materials such as our PlexiCrete resins and some of our epoxy hardeners. These are castor oil derivatives and organic materials.
MR Credit 7: Certified Sustainably Harvested Wood
We use crushed walnut shells in some of our products.
Indoor Environmental Quality:
IEQ Credit 4: Low-Emitting Materials
All of Plexi-Chemie's products are low emitting materials. They are all VOC compliant.
[/tab]
[/smart-skinable-tabs]