The Bobby E. Leach Student Recreation Center at Florida State University is a 120,000-square-foot fitness facility located right in the heart of campus. The facility includes cardio and strength equipment, sports courts and an indoor track, pool and spa. There is also a spacious atrium with seating for students to hang out and enjoy healthy snacks and smoothies. This impressive and modern building is a focal point of the FSU campus, so when the floors of the locker rooms, dressing rooms, restrooms and pool area needed a complete overhaul, Plexi-Chemie's PlexiBlend High Tech Flooring (HTF) was the perfect product for the job. This seamless flooring system offers an affordable alternative to terrazzo and gives the floors the "Wow!" factor that the Leach Recreation Center deserves.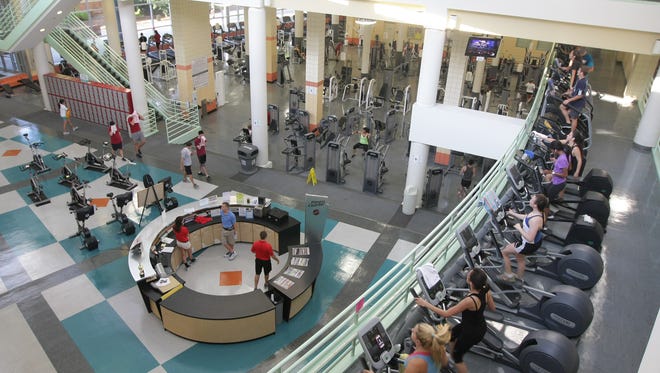 Photo courtesy of fsunews.com
Prepping for the Coating

The scope of the job included approximately 9,000 square feet of existing ceramic tile. The small, white tiles were deteriorating, cracked and delaminated. Some areas of the tile were filled in and repaired, while other areas required complete removal of the existing tile. Before the PlexiBlend HTF could be applied, all areas to be coated were ground using diamond grinders or hand grinding tools in the small, hard to access spaces.
Ready for the "Wow!" Factor
With the floors properly prepared, it was time to apply the PlexiBlend HTF. This green product contains no volatile organic compounds (VOCs) and creates a seamless, chemical resistant and sanitary flooring system. PlexiBlend HTF combines striking natural marble compounds, recycled media, such as shells and glass, as well as quartz aggregate to form an attractive surface with an endless possibility of colors and textures. Although PlexiBlend HTF is a more expensive option than quartz, it is offers the same aesthetic appeal as terrazzo at a much more affordable price.
At the Leach Recreation Center, the PlexiBlend HTF was troweled on either by hand, or using a 30-inch power trowel machine in the larger areas. The material was installed at a thickness of 1/8- 3/16-inches. The floors were then sanded and PlexiCrest XP was applied as a clear top coat at a thickness of 3-5 mils. PlexiCrest XP is a high solids, no VOCs, polyaspartic urethane, aliphatic polyurea. It is quick curing and has excellent UV, chemical and slip resistance. PlexiCrest XP is formulated so that the glossy clear coat has incredible clarity, ensuring that the beautiful color of the PlexiBlend HTF is kept completely intact.

Beauty and Functionality
At the conclusion of the Bobby E. Leach Student Recreation Center job, the installation of the beautiful PlexiBlend HTF was deemed a flooring system success. The floors of the restrooms, locker rooms, dressing rooms and pool area now had that "Wow!" factor AND were functional, durable and easy to maintain.