When the summer sun turns up the temperature on the jobsite, it's important to remember that the heat can and will affect how applicators install epoxy coatings. Read on to discover four tips to help you beat the heat this season!
Tip #1 – Test the Gel Time
Understanding how the weather affects the cure time of epoxy is a key factor in successful summertime coatings jobs. One way to gain this knowledge is to test the gel time by mixing one (1) ounce of epoxy resin with ½ ounce of hardener and timing how long it takes to cure. This simple test will tell you how much working time you have in the ambient temperature.  When temperatures soar, Plexi-Chemie offers PlexiGlaze #4 Slow Set to maximize the working time. For temperatures from 65 to 80 degrees Fahrenheit, our regular epoxy is a great choice.
Tip #2 – Keep the Materials Cool
Do whatever you can to keep the materials as cool as possible – turn on the air conditioner in the building, store the materials in the coolest part of the facility and keep products out of the sun. This is important even during transport! Also, don't forget about keeping the aggregates cool as well. Hot aggregates can also affect the epoxy application process.
Tip #3 – Consider the Substrate Temp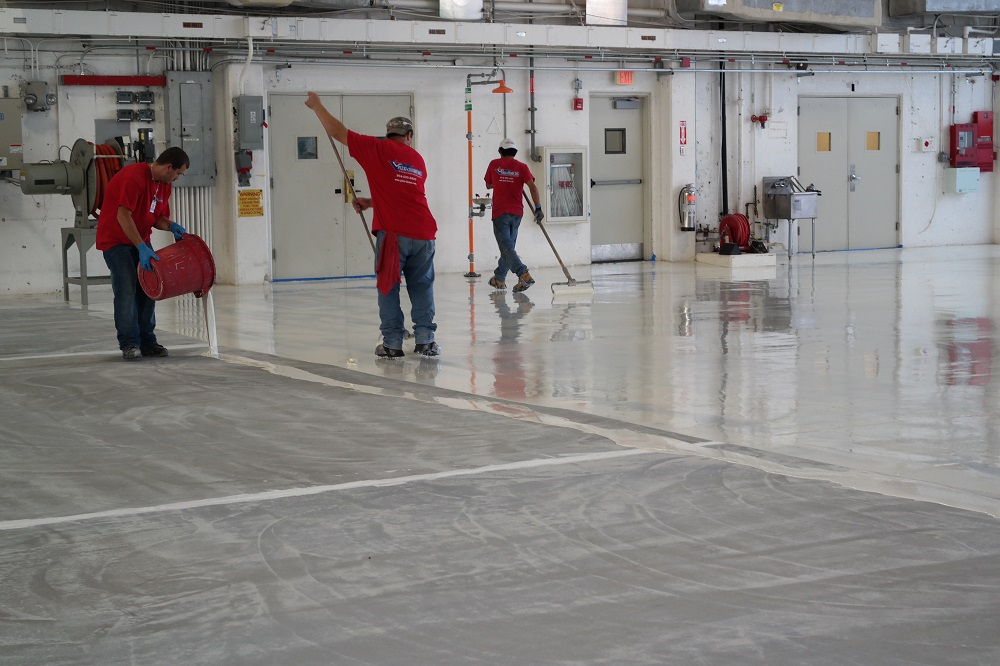 Although there is little you can do about the temperature of the concrete, it is important to know if you are applying epoxy to a hot substrate. Hot concrete diminishes the working time of the material.
Tip #4 – Summertime Safety
Last, but most certainly not least, remember that applying epoxy in hot weather can be taxing on the crew. Take breaks, stay hydrated and keep as cool as possible. Safety is always the number one priority on the job, regardless of the season!
[dt_divider style="thick" /]
For more information about Plexi-Chemie's PlexiGlaze #4 Slow Set or any other Plexi-Chemie products, please visit www.plexi-chemie.com or call 904.693.8800.