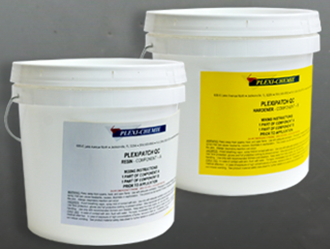 It is said that necessity is the mother of invention, and that is certainly the case when it came to PlexiPatch QC, our multi-purpose 100% solids, two-component patching compound. PlexiPatch QC is a resinous, epoxy-based material that we developed because our customers needed a product that would allow them to quickly and efficiently patch concrete, fill joints, cracks and surface deviations, while minimizing downtime. PlexiPatch QC becomes firm within 45 minutes, give or take a few minutes, and is completely ready for sanding and the application of a topcoat within 1.5-2 hours at an ambient temperature of 70°F or higher.
This quick-setting material is vital for epoxy flooring technicians who are working in areas where floors need to be prepped, repaired and coated within a tight timeline. In fact, using PlexiPatch QC can save you a great deal of time and money—flooring technicians can come in late in the afternoon, perform all necessary surface preparation procedures, apply PlexiPatch QC to any areas that require repair, lay down a resinous floor coating system and have the area ready to go by the start of business the next day. Talk about efficient!
Go-To Product for Floor Maintenance   
PlexiPatch QC can not only be used to fill horizontal and vertical cracks, divots and surface deviations for areas that are being completely recoated with a resinous epoxy floor, but it can also be used as a standalone product.  PlexiPatch QC is durable and functional, making it an essential part of any facility maintenance plan. The product can easily be used for permanent spot repairs in situations where the entire floor does not yet need to be recoated, or in circumstances where it is cost prohibitive to do so.
 
Ease of Application
Another advantage to the PlexiPatch QC product is how easy it is to apply.  The material has a ratio of 1 part A, 1 part B by volume, making this product a snap to mix and very easy to install. And where other patching compounds can be messy and difficult to properly apply, PlexiPatch QC can be applied using a trowel, putty knife or broad knife at various thicknesses. As our clients say, "It trowels like butter!"

                                                             *Note: Part A is now white and Part B is now black.

Versatile Versions
Currently, we offer two versions of PlexiPatch QC: a rigid version and a flexible version. The rigid version of the material is typically used in situations where there are cracks and holes in need of repair, but there aren't a large number of control or expansion joints in the concrete substrate. The flexible version is designed with 65% flexibility and is perfectly suited for floors with active and dynamic expansion joints.  However, it must be noted that flexibility does not mean the material lacks strength or durability. You can still drive a tow motor over areas where the PlexiPatch QC Flexible version has been applied within 1.5 hours.

Variety of Industry Uses
With its quick-setting properties and ease of application, PlexiPatch QC is the right choice for epoxy flooring contractors and facility maintenance professionals who want a reliable, durable and functional patching product. PlexiPatch QC can be used in restaurant kitchens, food processing and manufacturing plants or any other facility that needs concrete patching done with minimal downtime.  There's no other patching compound out there that can do what PlexiPatch QC does both in conjunction with epoxy floor coatings and as a standalone product.
[dt_divider style="thin" /]
For more information about PlexiPatch QC, please contact a Plexi-Chemie sales representative, or feel free to call us at 904-693-8800 or email us at office@plexi-chemie.com.