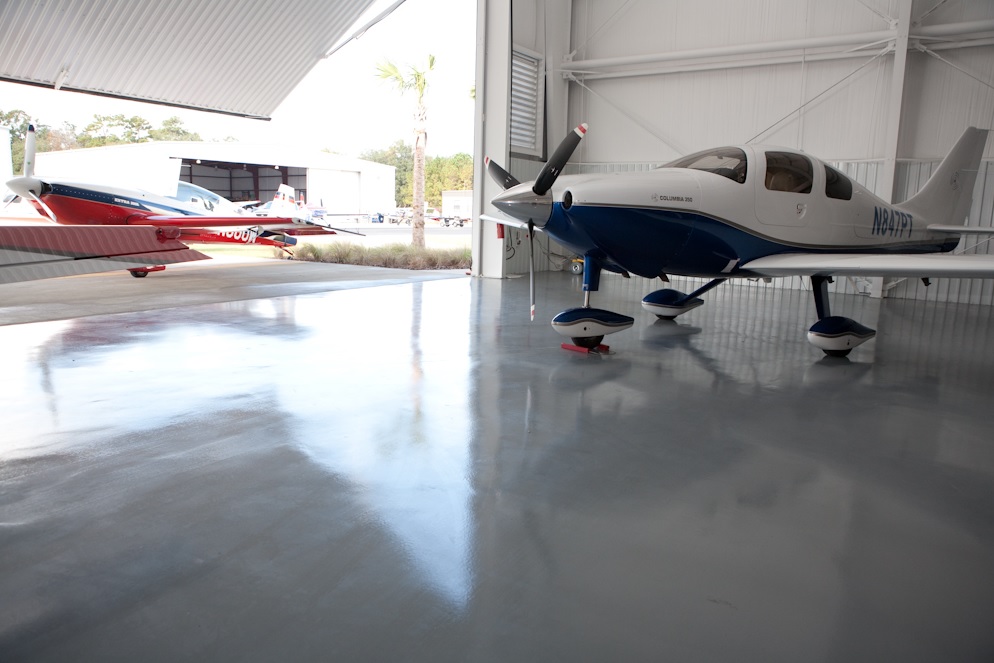 The floors of airplane hangars, fire stations and warehouses are subjected to conditions day-in and day-out that can wreak havoc on protective flooring systems that are not designed to be impact, chemical and abrasion resistant. Plexi-Chemie offers epoxy flooring systems that are specifically formulated to perform even in these harsh environments.
Counting the Layers
Depending on the specific conditions and circumstances of a particular job (for example, substrate condition, the presence of moisture in the concrete and the required finish of the coating system), Plexi-Chemie offers two, three and four coat epoxy flooring systems.
The two-coat system consists of a layer of PlexiGlaze #4 applied at a thickness of 7-10 mils and a layer of PlexiGlaze IFF (Industrial Floor Finish) pigmented epoxy coating installed at a thickness of 12-15 mils. PlexiGlaze #4 is a 100% solids, USDA accepted, water-clear epoxy flooring resin that is designed to be used as a primer/sealer for concrete. PlexiGlaze IFF is also a 100% solids, low VOC, USDA accepted, pigmented heavy-duty floor coating. It is designed specifically for industrial and commercial applications, is non-blushing and non-water spotting and supports heavy industrial traffic.

The three-coat system adds 2 to 3 mils of PlexiCrest P urethane top coat to the PlexiGlaze #4 and PlexiGlaze IFF. PlexiCrest P is a polyester polyurethane gloss coating that displays exceptional moisture and abrasion resistance, is easy to clean and provides excellent UV resistance.

Plexi-Chemie also offers a four-coat system that adds a second body coat of PlexieGlaze IFF at a thickness of 10-20 mils.

Unique Needs of Harsh Environments
Protecting the floors of fire stations, airplane hangars and warehouses is serious business. These floors are subjected to extreme conditions that require high performance epoxy coating systems that can be counted on for long-term protection.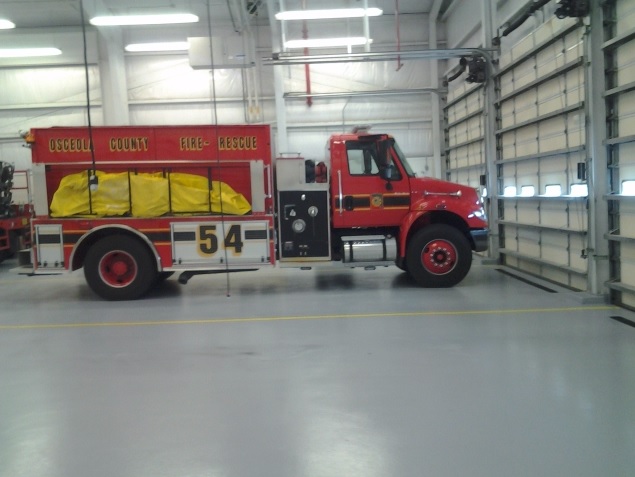 The floors of fire stations are exposed to hot tires, impact from equipment, a variety of weather conditions and chemicals on a daily basis. Plexi-Chemie offers specifically designed fire station resinous flooring systems that can withstand the impact of the heaviest aerials, tankers or pumpers. They are also abrasion and slip resistant and easy to maintain.

When it comes to protecting the floors of airplane hangars, the flooring system must be slip and impact resistant, as well as able to withstand heavy loads and resistant to hazardous chemicals. Plexi-Chemie's epoxy system designed for hangar floors provide all of this and more, including a seamless high gloss finish that reflects light and improves brightness and visibility.
Plexi-Chemie's epoxy coating systems are perfect for concrete warehouse floors. These coatings can withstand heavy equipment usage, tow motor traffic, as well as exposure to corrosive liquids and solvents. These systems are typically 3/16-inch to ¼-inch think and can be smooth or slip resistant.
[dt_divider style="thick" /]
For more information about Plexi-Chemie's two, three and four coat systems specifically formulated for fire stations, airplane hangars and warehouses, please visit www.plexi-chemie.com or call 904-693-8800.